Radiolux . is a band from Leipzig, Germany . performing: sound and live generated moving images under the use of improvisation structures with digital electronic and analog sounds.(prepared clarinet, sax, synth, spatial drums) very special is the use of fieldrecordings and small objects / pictures / tools, to create a dense, abstract and cinematic atmosphere during the live performance.. The group members are:

Marek Brandt (triPhaze) playing electronics, synth, spatial drum, and fx,
Fabian Niermann playing saxophon, and prepared clarinet and
Inka Perl creates objects and pictures to live visuals.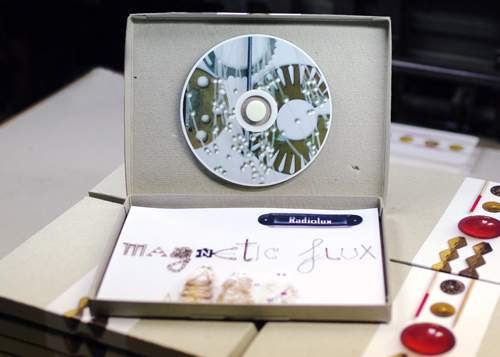 Radiolux: Magnetic Flux
7 Titel
length: 45.42 min
digital: mp3 (distribution over Finetunes) - in shops like: Itunes, Amazon, Beatport, and over streaming services like: Deezer, Spotify, wimp, rdio etc. etc.
analog: cd in a limited edition: cardboard box sealed . 16 pages artwork .
booklet: download
details: link
order: shop
reviews: link

"Und nimmt man sich die Zeit, dann offenbaren die Stücke in all ihrer Reibung zwischen filigraner Elektronik und sich frei bewegendem Saxofon eine enorme Faszination" Jens Wollweber / FrohFroh / Germany

to get more informations: http://radiolux.de



this is the first Radiolux programm trailer from 2013 - filmed at the Gallery KUB in Leipzig